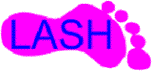 City Hash House Harriers
Hashing in the heart of London
Rain, snow or shine, you'll find us running every Tuesday night from a pub within London Underground Zones 1 & 2. So join us this Tuesday at 7.00 p.m in the pub and be ready for a run and then on back to the pub for social drinks.
To subscribe to the weekly newsletter, send a blank email to cityhash-subscribe@yahoogroups.com
Special Events
"R*n" List
Hash
Date
Venue
Station
Notes
R*n No. 1636
23rd Jul 2019
The Nag's Head
N1 0PQ
Angel

Full Load

R*n No. 1637
30th Jul 2019
Somerstown Coffee House
NW1 1HS
Euston

Vulcan


R*n No. 1638
6th Aug 2019
TBA


Boy Blunder - Pacman 2019 - Probably near Trafalgar Square

R*n No. 1639
13th Aug 2019
TBA


AGPU

R*n No. 1640
20th Aug 2019
TBA


Hare Needed

R*n No. 1641
27th Aug 2019
TBA


One Night Stand - his last week in London!